Birding Bastrop Hotspot Sayer's Road
Bastrop, Texas is an excellent birding destination, and one of the best places to find birds is Sayer's Road, a designated eBird birding hotspot.
Most"birders know how to look up "hotspots" on eBird. Hotspot information includes a map, birds ever seen, birds likely to be seen, a bar chart of sightings, and some sighting locations. That's helpful information but sometimes it's nice to know more when heading out for the first time to a new birding place. This post is the first in a new series about birding hotspots in Bastrop County. I'm starting with the ones I know best, and as I learn more about each Bastrop hotspot, I plan to share that information as well.. Besides Little Piney, Sayer's Road is my favorite place to bird in Bastrop so that's where I'm starting..
Sayer's Road
Sayer's Road is one of the most beautiful drives in Bastrop County, and rich territory for birders. Bits of forest break open to green vistas of rolling hills dotted with grazing cattle. Streams flow below the single lane bridges, and Sayer's drifts close enough to the Colorado River that you can see it through the trees. Tanks for watering cattle sparkle throughout the pastures. Houses and barns here and there remind you that people live and work here, too, so please be careful and considerate.
Sayer's Road ranks second in Bastrop County hotspots on eBird with reports of 249 of the 369 species ever recorded in the county. You can count on Sayer's Road for a good variety of birds on any day, and you have a good chance of spotting something special.
Sayer's Road and Old Sayer's Road
For birders new to the area, these roads can be confusing. Locals call them Sayers, Old Sayers, Sayersville Road and Old Sayersville Road. For consistency, I'll go with the Google Maps names–Old Sayer's Road which is CR 49, and Sayer's Road which is CR 157. There is an area called Sayersville, but you won't find a town there.
Old Sayer's Road connects with Sayer's Road. For birding both roads, I would allot 2 1/2-3 hours. Sayer's is the easier road to bird and usually offers more birds to see. Old Sayer's is trickier because it is even more winding and has fewer spots to safely pull over. Old Sayer's meets Sayer's but you will have to do some back tracking to cover all of both roads.
Starting Out
You can reach Sayer's Road from Bastrop by following Main Street north until the name changes to Sayer's Road. I like to access Sayer's Road by turning onto Phelan Road off of Highway 95, If you take Phelan to Sayer's Road, you drive along railroad tracks for about .mile then turn right onto Sayer's Road.
Birding starts now! You will hear and possible see birds right away in the woods on your left. Also check the trees in a small cemetery on your right. After passing a few homes on your left, you will be driving close to the Colorado so watch for Hawks and Eagles which tend to follow the river. Once, I was lucky enough to see a Zone-tailed Hawk along here.
Next is a shady stretch of road where pecan trees almost touch overhead. Sparrows gather here in the winter– often on the road– and Warbler songs can be heard in spring and fall. The pecan alley stops as you cross Big Sandy Creek where I usually take a look on both sides.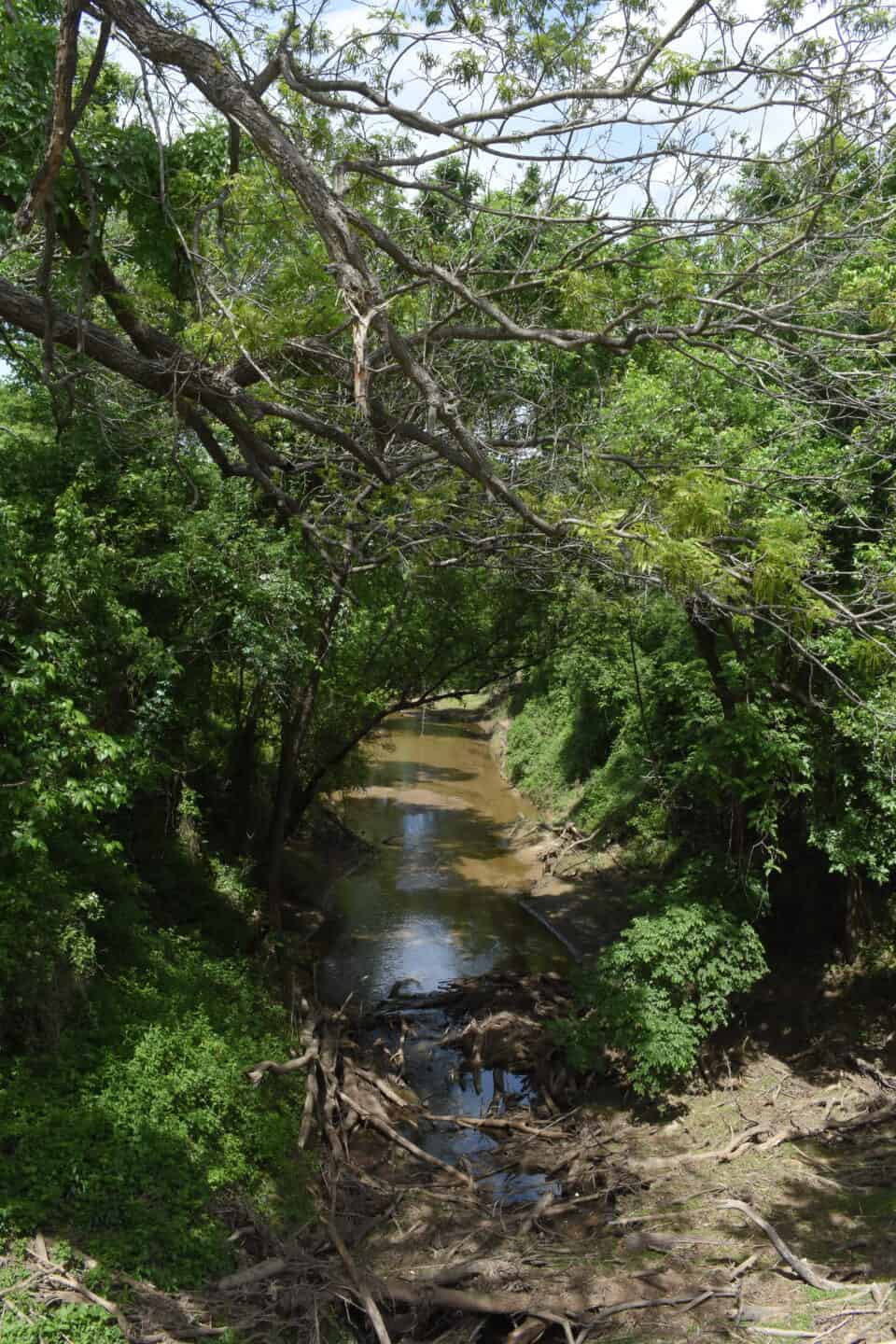 After Big Sandy, the view opens up, and you are now in the heart of the 982 acre McCall Ranch. Watch the fence line for Sparrows. Flycatchers, Meadowlarks, and Swallows. A Mountain Bluebird spent the winter here in 2019 along with a Say's Phoebe, both rare birds for Bastrop.. I photographed a Grasshopper Sparrow here last year..
Ahead on the right, you might see Blackbirds or Barn Swallows around the corral.
On the left a small tank never fails to host interesting water birds. A Little Blue Heron was a pleasant surprise for me on my last visit. Several times, I've seen Greater Yellowlegs, Egrets, and Great Blue Herons there.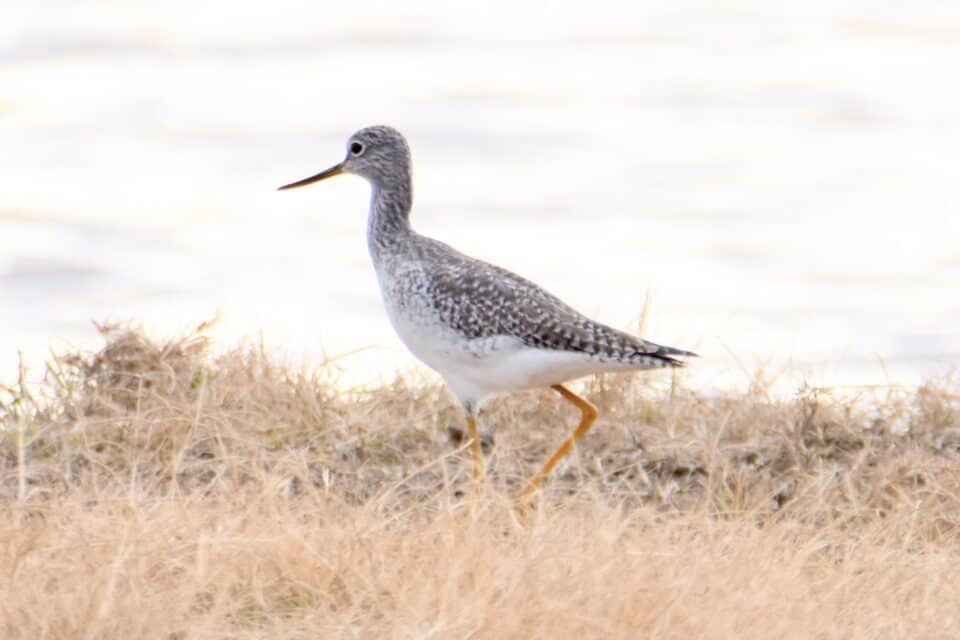 You'll continue to spot birds as you follow the road up and around a rising curve–Blackbirds, Flycatchers,Swallows, and Meadowlarks.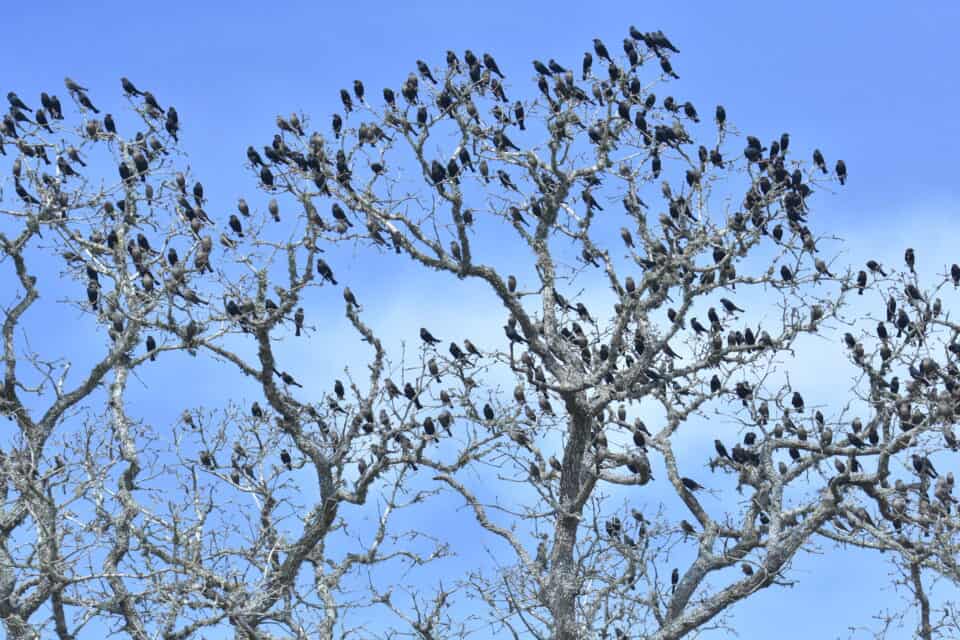 After you cross a cattle guard, several more tanks lie on both sides of the road. The views are obstructed, and the tanks are sometimes far from the road. A spotting scope can come in handy for the more distant ponds where you might want to check for Sandpipers and other small shore birds. In the winter you can find a variety of ducks, sometimes even the harder to find Cinnamon and Green-winged Teals.
Long-billed Dowitcher, Upland Sandpipers and Killdeer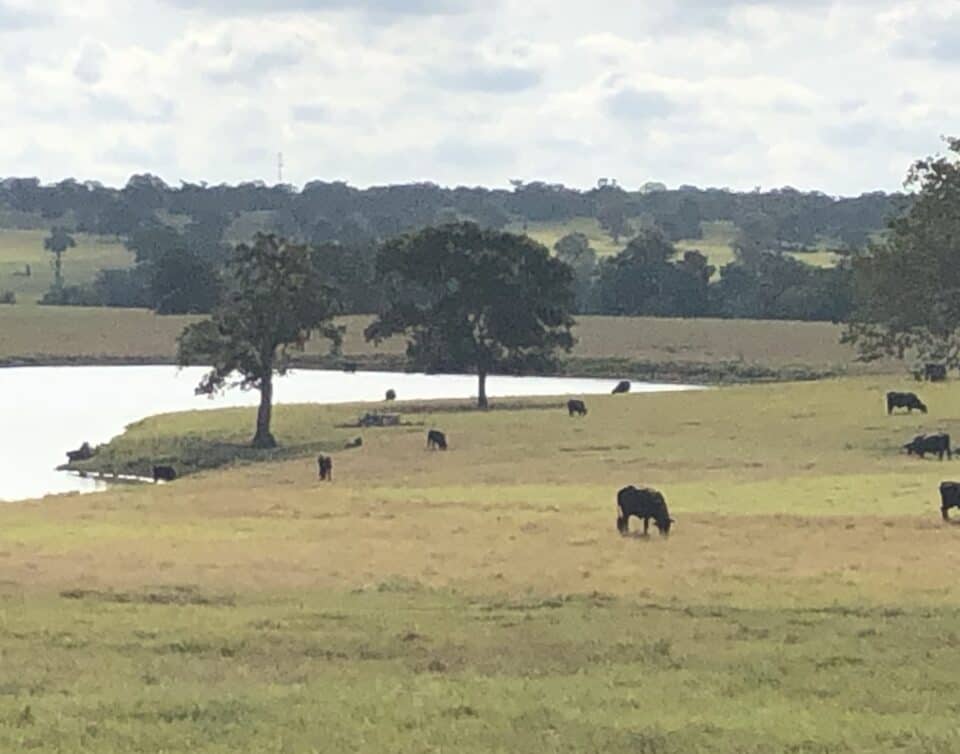 Overhead you might see a Northern Harrier, Red-tailed or Red-shouldered Hawk, American Kestrels, or even a Prairie Falcon. Along with the Kestrels, Loggerhead Shrikes often perch on the wires. You'll see Crested Caracara for sure—lots of them— as well as Black Vultures and Turkey Vultures by the dozen. Between the cattle guards, you might encounter cattle on the road. Just take it slow, and they will mosey on.
Sparrows are plentiful in the winter on the road and fences.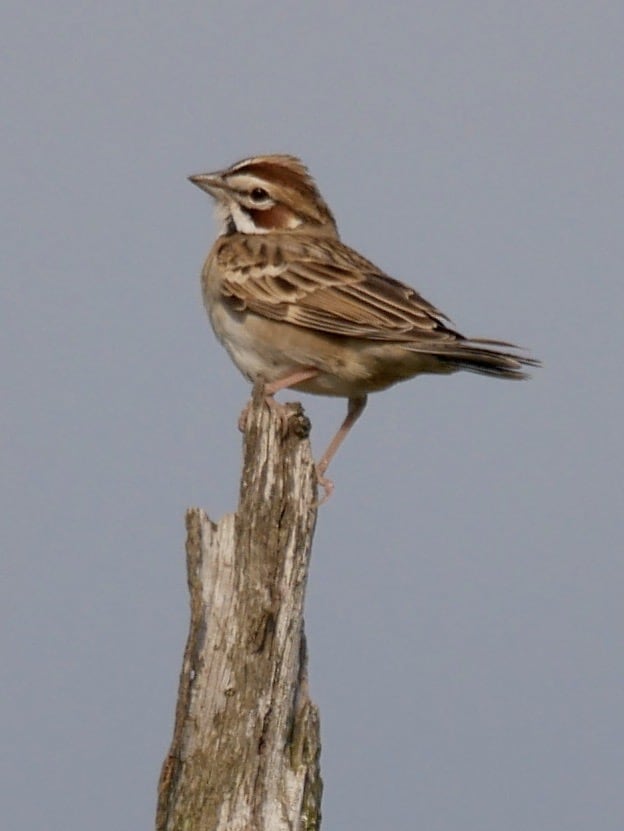 Once you drive over the second cattle guard, you'll have woods on the left and fields on the right–a good spot for Warblers and Painted Buntings. I have seen a Greater Road Runner a few times in the stretch of road approaching the collapsing barn..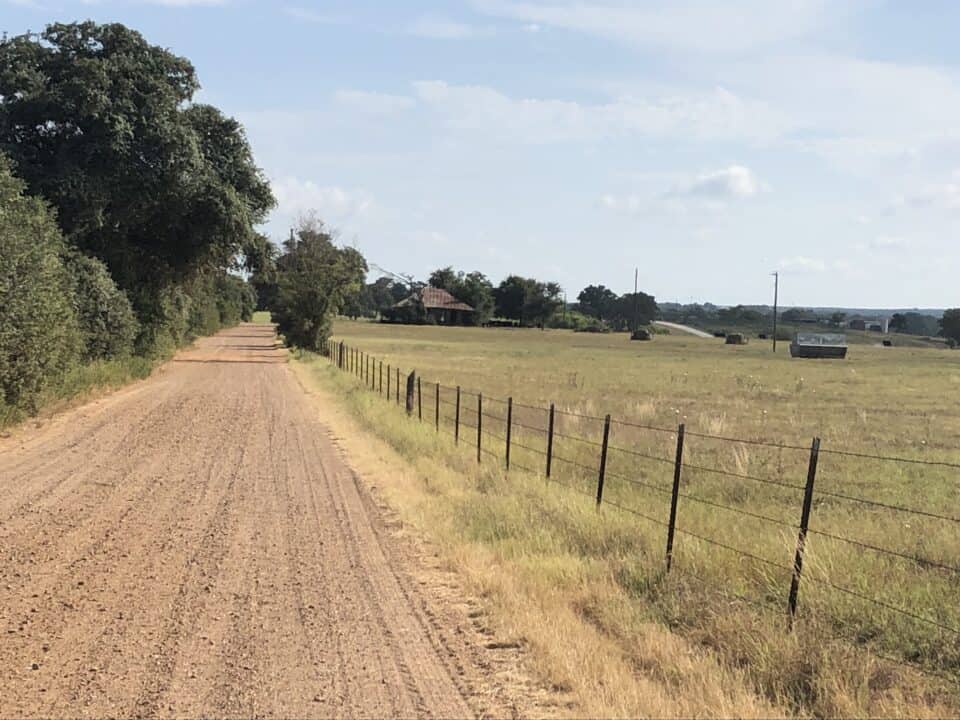 Sayer's Road in the Spring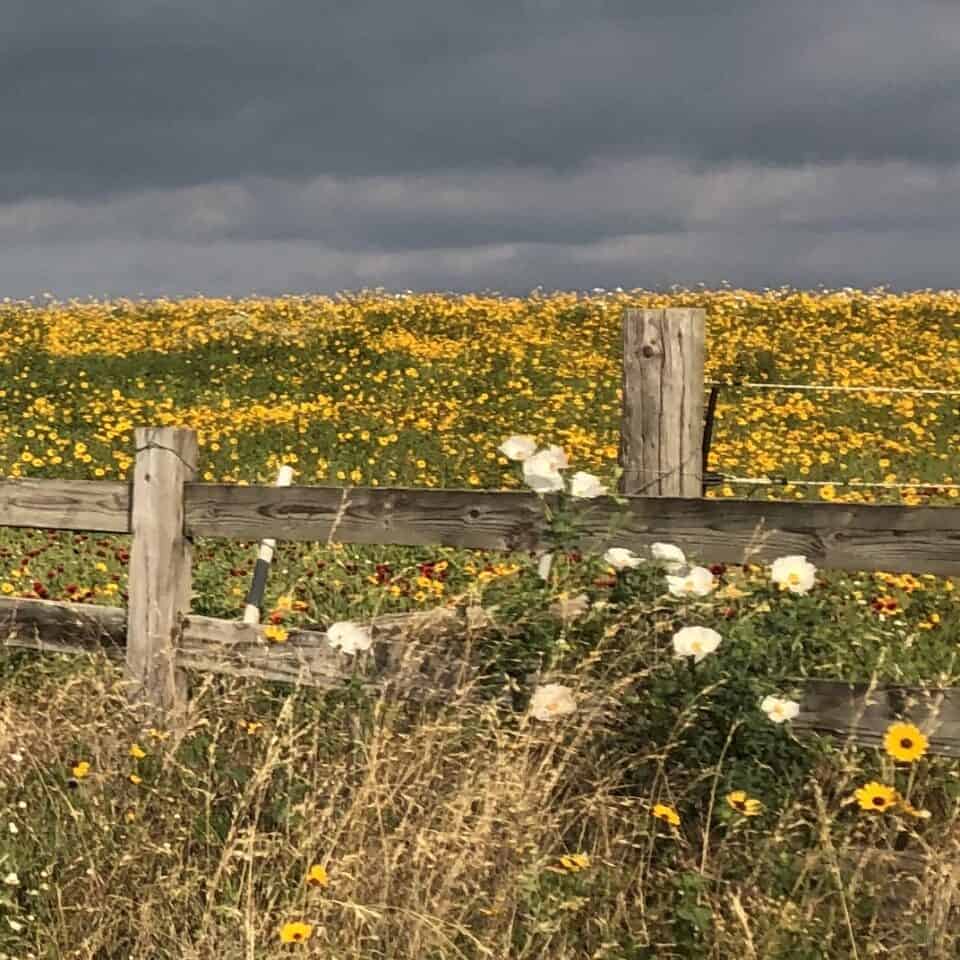 I hope you enjoy a drive on Sayer's Road soon because the landscape may be changing. The 982 acre McCall Ranch is for sale as well other properties nearby. With a 25 million dollar price tag, the land is likely to be developed for residential use. If so, I hope the development is done with sensitivity to the environment and the wild birds who call Sayer's Road home.