Christmas Bird Count
New Year's at Little Piney was all about the wildlife.  On January 1, I participated in my first Christmas Bird Count in Bastrop.  Every year, all over the world, on a given day between December 14 and January 5, tens of thousands of local birders count the birds in their area and report the numbers to the Audubon Society.  Scientists use the data–collected since 1901–to study bird populations, migration, environmental issues, habitat changes, and more.  This fascinating ritual of "citizen science," was an opportunity for me tag along and marvel at the skills of expert birders.  The day was fast-paced and thrilling.  Moving nonstop up and down country roads and park trails from 6:30 am to dark, we raced the sun to cover all of our territory in good light.  We even counted  birds at Little Piney!  Finds of the day included a Red-Headed Woodpecker, Pyrrhuloxias, several beautiful Kestrels, and a close up view of a Cooper's Hawk.
There was little time for photos as we sighted, counted, and recorded over 600 birds of 80 species.
Green Kingfisher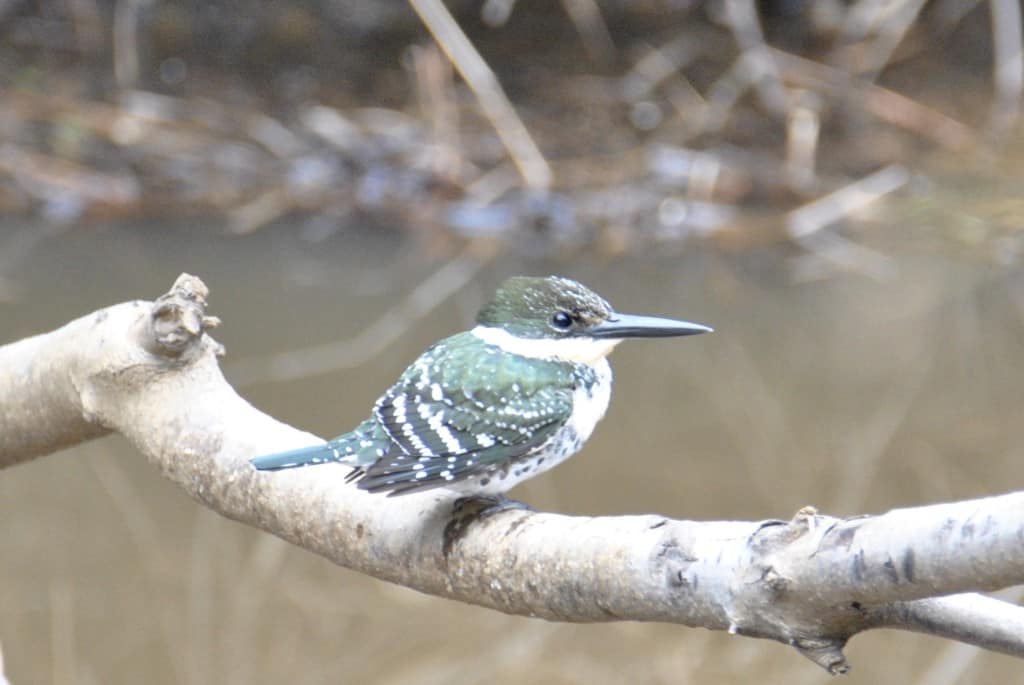 One bird I had hoped to spot for our list was the tiny, dashing Green Kingfisher who frequents our waterways at Little Piney.  He didn't show up until January 2, posing for this photo down at the creek bottom.  As no one spotted a Green Kingfisher on January 1, he was eligible to add as a species seen the week of the count.
Bigger Wild Things
On Saturday, we had more wildlife surprises at Little Piney.  From the dining room, we were watching a deer graze in the field when he turned suddenly toward the woods.  At full alert, he stamped his hooves several times never removing his eyes from a threat unseen to us.  Next, to our utter surprise, a good-sized bobcat emerged from the brush!  The bobcat carefully crossed the field, as the deer remained tense and watchful, pivoting to keep eyes glued to the gray cat.  I had my camera in hand, but due to light and distance, couldn't focus.  The best shot is the one below of the bobcat behind the open barn gate.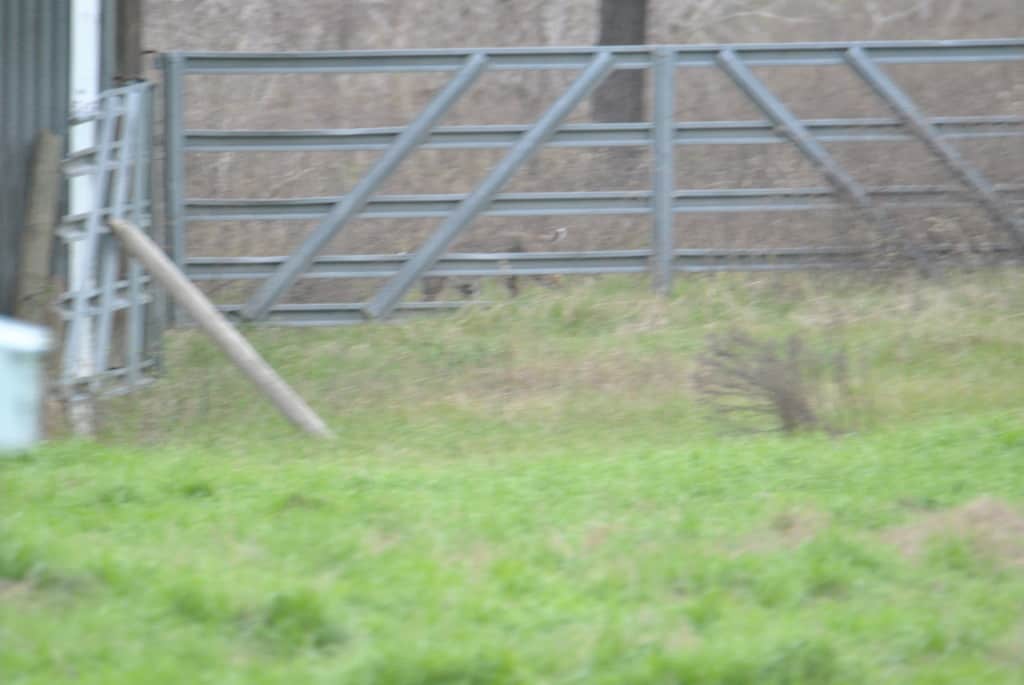 And this is the brave deer watching the cat as he crossed the field.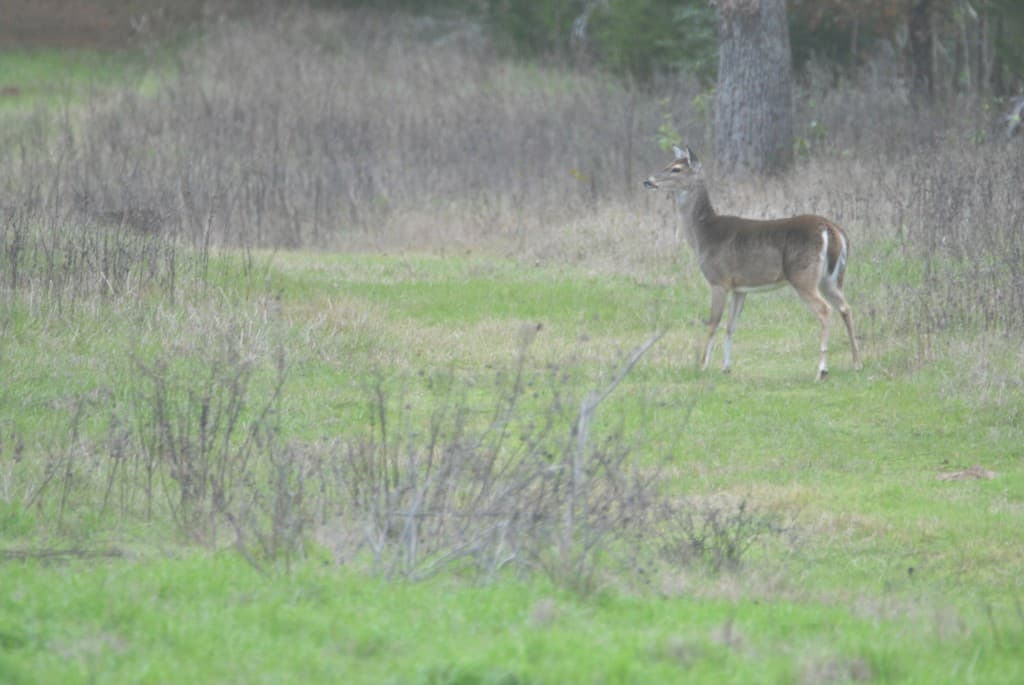 And a Cute Rodent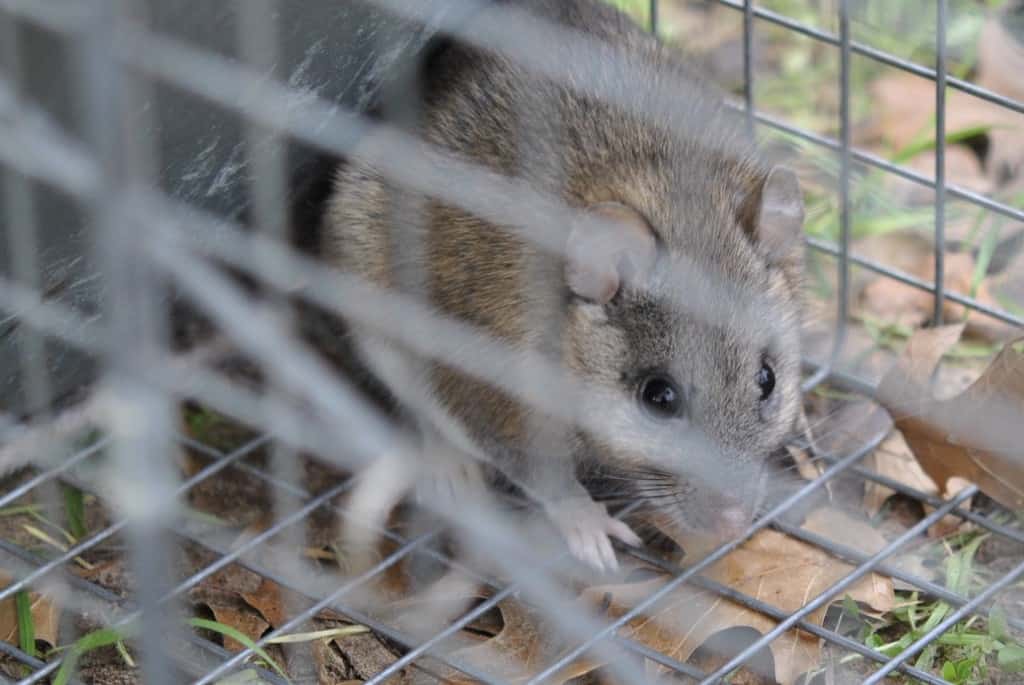 We have some rowdy residents below the house–some grizzly, hissing possums which sound like they are clawing their way up through floor at night.  In the process of trapping the nuisance critters we also caught this cute little guy.  He hops like a kangaroo rat, but looks more like a pocket mouse.  I'll update if I discover more about his identity.  Meanwhile, he has moved to a new home near a park.
That's our Wild New Year at Little Piney.  Happy 2016!